Aquarelle d' août 1879 de Vincent Van Gogh -
1879 watercolour by Vincent Van Gogh.
ヴィンセント·ヴァン·ゴッホ1879水彩画
1879年水彩畫文森特梵高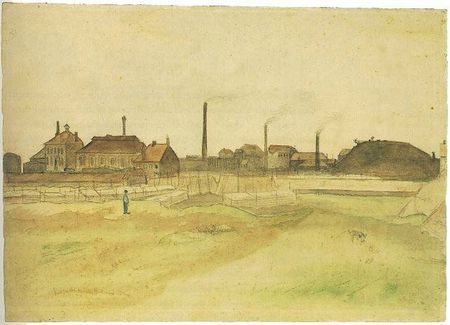 Site de Sainte-Félicité à Flénu, renseignements fournis par Antonio Sestu de Flénu.
Français

Début avril 2012, Mr Teio Meedendorp du Van Gogh Museum à Amsterdam, souhaitant localiser cette aquarelle de Vincent Van Gogh, prend contact avec Filip Depuydt (Grand-Hornu) qui relaye vers Antonio Sestu de Flénu et Freddy Godart de Cuesmes. Après recherches et examen de la documentation de Michel Finet, Antonio et Michel sont persuadés qu'il s'agit de la cokerie de la S.A. des charbonnages des Produits à Flénu. C'est le site de l'ancien charbonnage Sainte-Félicité, à l'angle de la Rue de Cuesmes et de la Rue à Charettes , au lieu-dit « gagane ». La vue est prise dans un axe Nord-Sud.
Au premier plan, un homme est face à des tas de briques que l'on a laissés sécher et qui ont servi à la construction des bâtiments et des murs, ceux-ci existent encore et délimitent le site ; et sur la droite, on remarque un chien.
Plusieurs puits ont été enfoncés, on remarque les grands ateliers et les cheminées de 2 fosses, n°21 et 22, profondeur : 740m). Au centre, il s'agit de 2 cheminées de fours à coke et la troisième celle de la Machine à vapeur. Le petit terril est celui de la Fosse au Bois n°13, aujourd'hui englobé sous le terril de Sainte Félicité.
(Plusieurs annotations sur l'aquarelle: - en haut à gauche ; le chiffre 21= numéro du dessin ou une date ?
- 2m2Fr = paye de l'ouvrier par jour ? - tirer du charbon avec des chevaux 25 ans = propos d'un mineur qui aurait travaillé 25 ans avec un cheval?)
Le dimanche 29 avril, en présence de Mr Meedendorp, nous nous sommes rendus à Flénu, sur place, avec Antonio Sestu qui , cartes et plans à l'appui, nous a montré que cette belle aquarelle représentait bien ce site charbonnier, terrain vague aujourd'hui.
N.B. Ce site a été fermé et arasé. En 1944-45, on y a installé des baraquements afin d'y loger des prisonniers allemands, polonais et russes pour travailler dans nos mines. Aujourd'hui, le terril de Sainte-Félicité fait débat pour qu'il reste classé et ne soit pas exploité.
("gagane" : lieu où l'on allait gagner ses sous ?)
Pour info. Au vu de la date de réalisation de l'aquarelle, VVG. venait d'arriver à Cuesmes.
Freddy Godart , mai 2012.
English
At the beginning of April 2012, Mr Teio Meedendorp (researcher at the Van Gogh Museum in Amsterdam) contacted Filip Depuydt (Grand-Hornu) in order to try to locate the above watercolour,realised by Vincent Van Gogh. Filip relayed to three local historicians : Antonio Sestu (Flénu), Michel Finet (Sars-la-Bruyère) and Freddy Godart (Cuesmes). After some research, Antonio and Michel came to the conclusion that the wotercolour represents the coking coal mine of Flénu Produits S.A, more specifically the former Sainte-Felicité colliery site, at the corner of Rue deCuesmes and Rue à Charettes, at a place called "gagane". The picture is taken in a north-south axis.
In the foreground, a man is facing a pile of drying bricks, as they were used for the construction of buildings and walls. The latter still exist and define the borders of the premises. On the right is a dog.
Several shafts were in use. One notices the main workshops and the chimneys of two pits, no. 21 and 22 (depth: 740m). In the centre, there are 2 coke ovens and the third chimney is the one of the steam engine. The small slag heap is the "Fosse au Bois" no. 13, today included in the slag mountain of Sainte-Felicité.
Multiple annotations on watercolour
- top left, the number 21 = drawing number or a date?
- = 2m2Fr pay of the worker per day ? - Pull coal with horses 25 of years of age = about a minor who has worked 25 years with a horse ?)
On Sunday, April 29th, a visit on the Flénu premises with maps and plans in support, in the presence of Mr. Meedendorp, Antonio Sestu, Pierre Lemal and I, proved that this beautiful watercolour embodied this former coalmine, today become wasteland.
N.B. : This site was closed and leveled. In 1944-45 barracks were set up to house German,Ppolish and Russian war prisoners to work in the local mines. Today, the Sainte-Felicité slag mountain is subject to debate whether it should remain classified or being removed.
("Gagane" : place where one would gain money ?)
For info : Given the date of completion of the watercolor, Vincent Van Gogh had just moved from Wasmes to Cuesmes.
Freddy Godart, May 2012.
Confirmation Van Gogh Museum Amsterdam

Sent: Tuesday, April 17, 2012 11:19 AM
Subject: RE: aquarelle
Cher Monsieur Antonio,
Je vous remercie beaucoup pour tous vos efforts en aide de l'identification de la représentation de l'aquarelle de Van Gogh. Je suis aussi en contact avec M. Finet et il m'a complètement convaincu avec la photo etc. de la cokerie à Flénu, coin des rues de Cuesmes (Moulin d'en Haut) et à Charettes.
Quand je ne me trompe pas, la position de Van Gogh était sur le terrain de la briqueterie, mais je ne suis pas sûr s'il se trouvait sur un petit terril –au bord à droit de l'aquarelle on peut voir les débuts d'une petite pente (ou deux petites pentes) où Van Gogh a noter les couleurs en mine de plomb 'rose' et 'clair' : est-ce que c'est possible qu'il s'agit d'une pente d'argile où autre chose sableux ? Le terril noir qu'on voit à droite en horizon me semblait le début du terril qui est plus grande maintenant et qui se trouve juste à côté du terrain vague ou se trouvait la cokerie et qui s'appelle, quand je ne me trompe pas, terril Sainte Henriette (ainsi, c'est le nom sur le plan que M. Finet m'envoyait). Ce terril se trouve un peu en arrière du terrain, le milieu de la pente formait une ligne avec les édifices en arrière-plan de la cokerie. On doit réaliser que Van Gogh n'avait que peu d'expérience à dessiner en 1879 et en général avait un grande problème avec la perspective et proportions relatives.
La date de l'aquarelle et plus ou moins fixée dans les mois Août-Septembre 1879 ; c'était en July que Vincent était congédié de l'évangélisation dans le Borinage et déménageait de Wasmes à Cuesmes. Là, il recevait une boîte d'aquarelle de son ancien chef de Goupil à La Haye, M. Tersteeg, et immédiatement s'occupait à aquareller dans les environs. Il a beaucoup dessiné au Borinage mais a détruit presque tous ses dessins, comme il a expliqué à Eugène Boch en 1888 quand le dernier retournait au Borinage. L'aquarelle de Flénu est la seule qui reste du temps avant l'été de 1880 quand Van Gogh embarquait vraiment le sentier de l'artiste.
Bien à vous, avec tous mes estimes,
Teio Meedendorp


Teio Meedendorp
Onderzoeker/Researcher
–––––
Van Gogh Museum
Museumplein 4
Postbus 75366
1070 AJ Amsterdam
The Netherlands
T +3120 5705 228

Meedendorp@vangoghmuseum.nl
http://www.vangoghmuseum.nl
Voir détails de l'étude dans l'album photos "Aquarelle Flénu (1879)"

See study details in the photo album "Flénu watercolour (1879)"