Vincent van Gogh tussen de mijnwerkers
IN EN ROND DE STEENKOOLMIJNEN ROND HET BELGISCHE BERGEN KOOS VINCENT VAN GOGH VOOR HET KUNSTENAARSCHAP, OEN HIJ ALS PREDIKANT DE MIJNWERKERS PROBEERDE TE HELPEN. HET HUIS WAAR HIJ DESTIJDS WOONDE STAAT LANGS EEN NIEUWE WANDELROUTE DIE VINCENT VAN GOGH IN DE BORINAGE EERT OP HET MOMENT DAT MONS CULTURELE HOOFDSTAD VAN EUROPA WORDT.
Frank Handorff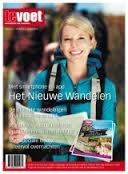 De Borinage. Zo heet de streek die nu vooral bekend staat, omdat er een schaduw van grimmigheid, werkloosheid en armoede over hangt. De naam komt van 'borains' en verwijst naar de boeren die regelmatig ook wat steenkool gingen sprokkelen op de velden. Want
de streek in de Waalse provincie Henegouwen was lange tijd beroemd om de steenkool en staalindustrie. Van Gogh belandde eigenlijk n de eerst geïndustrialiseerde streek van West-Europa. In de Borinage bleken de mijnen het zwarte goud te leveren: de lantaarns in Parijs brandden op mijngas uit deze dorpen. En waar ze toen zo voorop liepen, oogt de streek nu achterop. Want de mensen trekken niet snel weg uit deze streek die het nu moeilijk heeft. Het is onderweg soms te zien: vervallen gevels, geen kip op straat en in een plantsoen liggen dertig halve liter bierblikken. Die blikken kom je trouwens vaker onderweg tegen. Maar het uitzicht op de felbonte herfstkleuren van de herfstbossen op de hellingen waar vroeger die mijnwerkers met hun zwarte gezichten als mieren rondliepen, overheerst.
KOLEN SJOUWEN
Hier streek Vincent van Gogh neer in 1878 als evangelist om er twee jaar te blijven. Op 25-jarige leeftijd was hij predikant op proef van de protestantse gemeenschap van Petit-Wasmes. Hier gaf hij bijbellessen en verzorgde zieken en zwangere vrouwen. Maar hij ging nog verder, omdat hij zich verwant voelde met de mensen. Hij hielp de vrouwen op de terrils, de steenbergen, en maakte zijn gezicht zwart om er als een mijnwerker uit te zien, vertelt gids Filip Depuydt die de route langs de sporen van Van Gogh 'te voet' speciale bijlage over Wallonië heeft uitgezet. 'Hij was een engel die was gestuurd, zeiden veel mensen toen in het dorp.'
TEKENINGEN IN DE KACHEL
Naast zijn werk als hulppredikant tekende Vincent van Gogh hier veel. Met houtskool, dat er in overvloed was, schetste hij portretten van de mensen die hij tegenkwam. Maar als de schetsen klaar waren, maakte de vrouw van het huis er de kachel weer mee aan…
De mensen en de landschappen van de Borinage kwam Van Gogh tegen tijdens zijn wandelingen, iets dat hij van huis uit had eegekregen, want het gezin Van Gogh wandelde regelmatig in de omgeving van Zundert. Die wandelingen vormden de basis van Vincents liefde voor de natuur.
ZWARTE GEZICHTEN IN DE WITTE SNEEUW
Vincent van Gogh moet vast gelopen hebben over de destijds onverharde paden van deze wandelroute. Nu, zo'n 135 jaar later, lingert deze route over de asfaltwegen tussen de huizen van het dorpje Wasmes. De zon schijnt op de hoge heuvels, het is warm. Hier zag Van Gogh dus de 'donkere sparrenbosschen met kleine witte arbeiderswoningen'. En hij zag hun zwarte gezichten fel afsteken tegen de witte sneeuw in de winter. Af en toe loop je over een onverhard pad langs de voet van een heuvel langs bramenstruiken of koeienweides. Hier en daar de littekens in het landschap van de mijnschachten die de uiteinden markeren van een diep mollengangenstelsel dat nog steeds bestaat.
OPGEKNAPT HUIS
Het huis waar Vincent van Gogh als predikant woonde, staat achter andere huizen langs een drukke weg. Het was lange tijd vervallen n stond zelfs op instorten. Maar nu wordt het voormalige bouwval in rap tempo vertimmerd, want het moet er mooi uitzien, zeker nu Bergen in 2015 Culturele Hoofdstad van Europa wordt. En terecht, want het huis waar een van de beroemdste schilders ter wereld woonde, is gewoon waardevol. Op deze plek waardeerde men hem om zijn zorg voor de zieken. Maar ze zagen ook zijn gebrekkige communicatieve vaardigheden. Hij zou tekort schieten in de verkondiging van het woord en kreeg geen aanstelling. Dit was het oment waarop Vincent in Cuesmes ging wonen en definitief koos voor het kunstenaarschap in Nederland en Frankrijk.
Vincent Van Gogh Jaar
In 2015 is het precies 125 jaar geleden dat Vincent van Gogh (1853-1890) is gestorven. Daarom wordt de beroemde schilder geëerd et tentoonstellingen, fiets- en wandelroutes, kunstmanifestaties en digitale applicaties. Vier instellingen staan aan de basis van de tichting Van Gogh Europe: het Van Gogh Museum, het Kröller-Müller Museum, Van Gogh Brabant en Mons 2015, Culturele Hoofdstad van Europa. In het BAM Museum – in Mons – vindt de tentoonstelling Van Gogh in the Borinage, the birth of an artist plaats. Hierbij zullen zo'n 70 schilderijen en tekeningen uit internationale collecties te zien zijn.
Mons Culturele Hoofdstad van Europa 2015
Het programma van de Culturele Hoofdstad van Europa 2015 wordt gewijd aan Vincent van Gogh die daar destijds besloot kunstenaar e worden. Mons wil met ruim 300 verschillende evenementen een sociaaleconomische metamorfose ondergaan. De openingstentoonstelling, die plaatsvindt van 25 januari tot en met 17 mei 2015, richt zich op de beginjaren van Van Goghs carrière als kunstenaar die hij in de Borinage doorbracht. Hierbij wordt teruggegrepen naar zijn vroegste werken en inspiratiebronnen.
Naast de tentoonstellingen wordt er aandacht besteed aan de film 'Lust for Life' (1956) over de kunstenaar en zal het Van Goghhuis in Colfontaine gerestaureerd worden.
Zie ook: www.mons2015.eu en www.visitmons.be
Foto Frank Handorff