Mons 2015 - Sun City
Labyrinthe consacré à Vincent Van Gogh
Trouvez votre chemin à travers 7.500 tournesols !
Mons, Grand-Place, 17 - 26 juillet 2015
Labyrinth dedicated to Vincent Van Gogh
Find your way through 7500 sunflowers !
Mons, Grand-Place, July 17 - 26, 2015
Labyrinth gewijd aan Vincent Van Gogh
Vindt uw weg door 7.500 zonnebloemen !
Mons, Grand-Place, 17 - 26 juli 2015
Info : http://www.mons2015.eu/fr/sun-city
---
Télé MB
Prenez le temps de vous perdre sur la Grand Place de Mons, dans un labyrinthe géant de 2500 mètres carré. Imaginée par Fanny Boyagui, cette oeuvre monumentale rend hommage à Vincent Van Gogh, elle est constituée de 7500 tournesols! Pour réaliser Sun City, l'artiste complice de Mons 2015 a travaillé durant deux ans avec les Espaces verts de la Province de Hainaut. De nombreux bénévoles ont également participé au montage. Regardez!
Voir le reportage :
http://www.telemb.be/mons-evadez-vous-dans-sun-city-_d_16421.html
---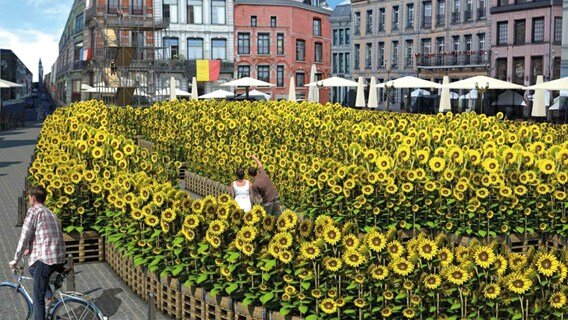 ---
Disponible à Sun City : la bière "Nuit Etoilée" !
Available at Sun City : the "Nuit Etoilée" (Starry Night) beer !
Verkrijgbaar in Sun City : het "Nuit Etoilée" (Sterrennacht) bier !
"Nuit Etoilée", Brasserie Abbaye des Rocs,
Montignies-sur-Roc (Honnelles) - Belgiium
---
RTBF
24/01/2015
Artiste associée à Mons 2015, Fanny Bouyaugi va semer en juillet, sur la Grand-Place, un labyrinthe de 8.000 tournesols en clin d'œil à la grande exposition Van Gogh du BAM.
Nous allons vous présenter une star à présent. Une de plus ! Elle est très connue outre Quiévrain. Elle a même reçu la Légion d'Honneur, excusez du peu. Fanny Bouyagui est une artiste du nord de la France. Les files lors des funérailles de Nelson Mandela lui ont inspiré l'installation visible en ce moment même à la Maison Folie. Et les tournesols de Vincent Van Gogh lui ont donné l'idée d'un des moments forts de Mons 2015 au mois de juillet prochain.
Le portrait de Gorian Delpatûre.
Pour connaître Fanny Bouyagui, il faut se rendre dans le nord de la France, à Roubaix, sa ville natale. C'est là qu'elle vit encore et où elle a installé son atelier dans un gigantesque entrepôt. Fanny aurait dû être couturière à la chaîne, elle est devenue artiste un peu par hasard. Et sur le tard.
Fanny est une vedette en France. Elle est devenue chevalier de la Légion d'Honneur en 2013. Ses principales réussites : des expositions basées sur des objets de récupération, un festival de musique électronique et surtout la Braderie de l'Art, un concept inventé il y a 23 ans.
Des artistes réunis dans un lieu clos, qui travaillent à partir d'objets de récup et qui vendent leurs œuvres à des prix abordables : la braderie de l'art était née et le concept allait être repris dans de nombreux pays comme la Belgique.
Artiste complice de Mons 2015, Fanny a également imaginé le concept de " Sun City ". Durant l'été 2015, elle installera un labyrinthe de 11500 tournesols sur la Grand-Place de Mons. Une référence évidente à l'univers de Vincent Van Gogh.
Fanny Bouyagui a été associée dès le début à Mons 2015. En plus de son labyrinthe de tournesols, elle participe à la cérémonie de ce soir et prépare un troisième projet montois. C'est une véritable reconnaissance internationale de son travail artistique par une ville qu'elle apprécie particulièrement.