Auvers-sur-Oise
samedi / zaterdag / Saturday 25-06-2016
Couronnement des tombes de Vincent et de Theo
avec du charbon de Flénu (Borinage)
Bekroning van Vincent's en Theo's graven
met steenkool uit Flénu (Borinage)
Crowning of Vincent's and Theo's graves
with coal from Flénu (Borinage)
Lors d'une visite à Auvers-sur-Oise du Centre Culturel de Colfontaine,
Monsieur Antonio Sestu a voulu rendre hommage à Vincent et Theo Van Gogh
et aux mineurs borains
en plaçant une "gaillette" de charbon
et un peu de terre des anciens charbonnages de "la Sorcière" et "Gagan" à Flénu
sur leurs tombes.
Tijdens een bezoek aan Auvers-sur-Oise
heeft Dhr. Antonio Sestu een hulde gebracht aan Vincent en Theo
en aan de mijnwerkers uit de Borinage
door een "gaillette" (= groot stuk steenkool) en wat aarde
van de vroegere mijnen van "la Sorcière"" en "Gagan"
op hun grafstenen te leggen.
During a visit to Auvers-sur-Oise
Mr. Antonio Sestu paid tribute to Vincent and Theo
and to the miners in the Borinage by placing
a "gaillette" (= big chunk of coal) and some
earth of the former "Sorcière" and "Gagan" collieries
on their graves.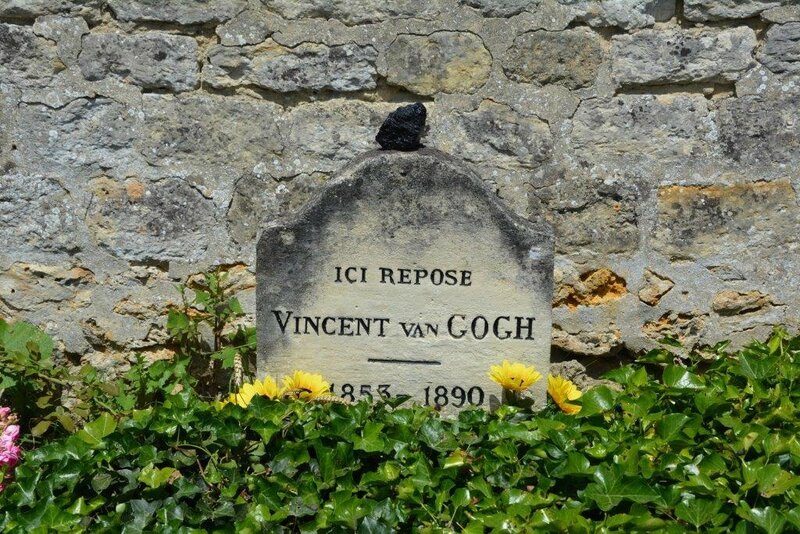 Vincent Van Gogh à Flénu (Borinage) : http://www.telemb.be/quartiers-d-histoires-quartiers-d-histoires-vincent-van-gogh-l-aquarelle-oubliee_d_10860.html
Quartiers d'Histoires: Vincent Van Gogh, l'aquarelle oubliée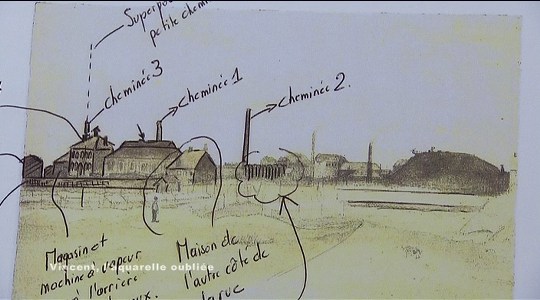 26 septembre 2013 08:08
Vincent, l'aquarelle oubliée.
Tout est parti d'une copie d'un dessin de Van Gogh envoyé par courriel en avril 2012. Un dessin qui représenterait le Fief de Lambrechies mais que le Musée Van Gogh à Amsterdam voudrait définitivement indentifier. Une enquête va alors commencer avant que la clé de l'énigme ne soit trouvée il y a quelques mois.