Van Gogh, l'énigme de l'oreille coupée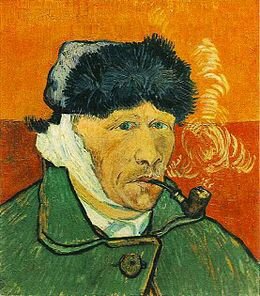 Comment et pourquoi Van Gogh s'est-il mutilé l'oreille un soir de décembre 1888 ? Dans le sillage de Bernadette Murphy, qui a rassemblé les pièces du puzzle, une enquête trépidante sur l'un des plus célèbres mystères de l'histoire de l'art.
Chacun a entendu parler de cette nuit du 23 décembre 1888 au cours de laquelle, à Arles, Vincent Van Gogh se plaça devant un miroir, attrapa un rasoir et se coupa l'oreille. À la suite de cet épisode tragique, la famille du peintre détruisit certains documents compromettants. Depuis, en l'absence d'éléments tangibles, des générations de chercheurs ont échafaudé des théories sur le déroulement des faits. Mais que s'est-il passé réellement ? Van Gogh s'est-il tranché l'oreille entière ou uniquement le lobe ? Que révèle cette automutilation sur son état mental ? Chercheuse indépendante installée en Provence, Bernadette Murphy a joué les détectives pendant cinq années pour reconstituer précisément le scénario du drame.
Pêche aux indices
Au fil de ses investigations, elle a plongé dans l'intimité de l'artiste et recomposé son quotidien à Arles : ses amis, ses ennemis, ses œuvres majeures, la visite houleuse de Paul Gauguin, qui marqua un tournant dans sa vie, le bouillonnement de ses émotions… Ce documentaire captivant retrace les étapes clés de cette enquête minutieuse, qui a permis, pour la première fois, de faire la lumière sur cet incident en identifiant toutes les forces à l'œuvre, et de comprendre comment il a influencé la démarche artistique de Van Gogh.
Voir plus :
http://www.arte.tv/guide/fr/062899-000-A/van-gogh-l-enigme-de-l-oreille-coupee
---
Bernadette Murphy: The true story of Van Gogh's Ear
When Vincent Van Gogh shot himself in 1890 he had sold just one painting. One hundred and thirty years later he's a superstar of the artworld pantheon, with paintings in every major museum in the world, each selling for millions at auction. Yet he is known more for his extraordinary personal life, and for one incident in particular. On 23 December 1888 in Arles, a small town in Provence, Van Gogh sat in front of his mirror, took hold of a cut-throat razor used for shaving and sliced into his own ear. It was an act of astonishing savagery and has come to define the man, the art and the myth.
Bernadette Murphy, author of Van Gogh's Ear: The True Story, has lived in the south of France for over thirty years, just a few miles from Arles. She has spent years hearing local gossip about the crazed painter and his madness, but there always seemed to be mysterious lacunae in the story: how much of his ear did he cut off? Why did he do it? Who was the prostitute to whom he gave his grisly gift? How did he end up, just eighteen months after he cut off his ear, committing suicide at only 37 years old? She was determined to find some answers.
So began a monumental quest. Approaching these questions with a detective's eye for detail, Bernadette Murphy compiled a database of over 15,000 people who lived in Arles in the 1880s, many of them people Van Gogh knew well, and spent months in local archives, sending queries far and wide.
In early 1889 Van Gogh painted two self-portraits with a bandage wrapped around his ear. What really lies beneath that bandage has been disputed for the last century. Van Gogh's family had long sought to minimise the injury, claiming it was just the lobe he cut off. But contradictory rumours soon started to circulate. In the archives of the Van Gogh Museum in Amsterdam, Bernadette read about a trip the American writer Irving Stone made to Arles in 1930. Stone was researching his fictionalised biography of Van Gogh, Lust for Life, later made into a film starring Kirk Douglas as the painter. Stone sought out Dr Felix Rey, who as a young intern had treated Van Gogh the day after he severed his ear, and asked him to draw a diagram of exactly what Van Gogh had done. In Stone's archives in California Bernadette found this drawing and for the first time in a century laid to rest the question once and for all.
image: https://www.penguin.co.uk/content/dam/prh-consumer/penguin/articles/find-your-next-read/recommendations/2016/jul/Dr%20Rey's%20drawing.png
Dr Rey's drawing © The Bancroft Library, University of California, Berkeley
image: https://www.penguin.co.uk/content/dam/prh-consumer/penguin/articles/find-your-next-read/recommendations/2016/jul/Lust%20for%20Life%20new.jpg
Using her database, extensive local knowledge and a forensic approach to research, Bernadette also managed to identify the girl, known only as 'Rachel', to whom Van Gogh gave his severed ear that night. Van Gogh sought out 'Rachel', who we now know was actually called Gabrielle, at one of the brothels on the rue Bout d'Arles, in the local red-light district, which had long prompted writers to assume she was a prostitute. The truth is far more nuanced.
These are only a couple of the many revelations, large and small, that Bernadette Murphy makes in the compelling Van Gogh's Ear: The True Story. Bernadette set out to answer questions and debunk the myth-making around Van Gogh. And she succeeded: her new information uncovers mysteries, shifts perceptions and significantly changes the way we see Van Gogh. Her book is a detective story and a quest: we see her battling against reluctant archivists, finding friends in strange places, and having moments of thrilling revelation. It's an emotional journey fraught with challenges, but it also proves that an everywoman can achieve the incredible.
Read more at https://www.penguin.co.uk/articles/find-your-next-read/recommendations/2016/jul/bernadette-murphy-on-van-gogh/#LyFGljyOkdmTEMBR.99