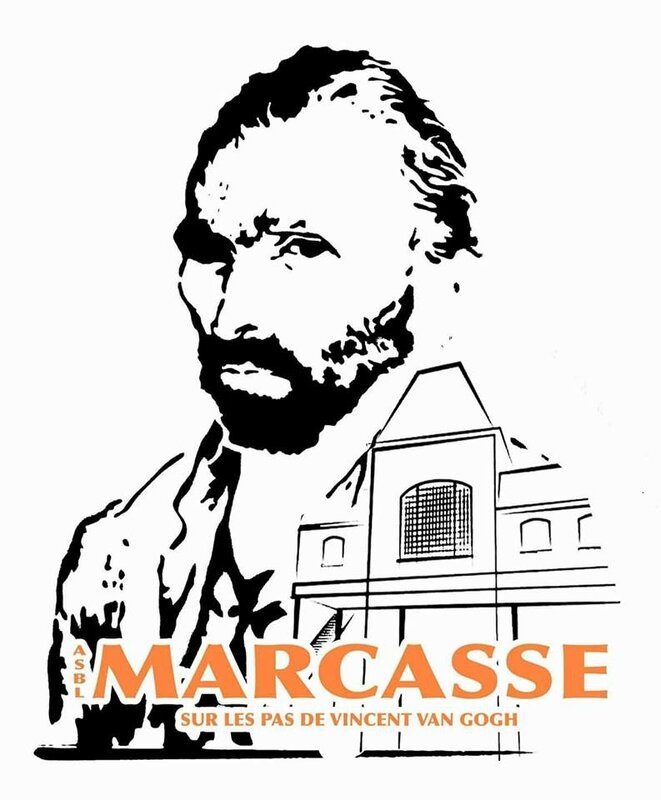 ---
GB
« Marcasse et sa mémoire »
Sentier de Saint-Ghislain 7
7340 Colfontaine
Presentation
The Marcasse colliery is Located near Mons (Belgium), a stone's throw from the E19 motorway from Brussels to Paris. It is one of the oldest mining sites in the Borinage first industrialized coal region in Europe. Overtime, the mining company has experienced a rather turbulent history. Here's what tells Vincent Van Gogh, former evangelist among the miners in Petit-Wasmes, in a letter to his brother Theo in April 1879:

..I went on a very interesting excursion not long ago; the fact is, I spent 6 hours in a mine.
In one of the oldest and most dangerous mines in the area no less, called Marcasse. This mine has a bad name because many die in it, whether going down or coming up, or by suffocation or gas exploding, or because of water in the ground, or because of old passageways caving in and so on. It's a sombre place, and at first sight everything around it has something dismal and deathly about it..".
…Going down in a mine is an unpleasant business, in a kind of basket or cage like a bucket in a well, but then a well 500-700 metres deep, so that down there, looking upward, the daylight appears to be about as big as a star in the sky. One has a feeling similar to one's first time on a ship at sea, but worse, though fortunately it doesn't last long. The workers get used to it, but even so, they never shake off an unconquerable feeling of horror and dread that stays with them, not without reason or unjustifiably. Once down there, however, it isn't so bad, and the effort is richly rewarded by what one sees…" (Vincent van Gogh to his brother Theo, April 1879)
Thanks to this visit Marcasse welcomes visitors from all over the world in search of Vincent Van Gogh's steps. Moreover, the site is an important location on the new Van Gogh Europe Route : www.vangogheurope.eu.

The old industrial buildings of Marcasse, located in a picturesque setting at the foot of a nature reserve, are among the few Borain testimonies of the industrial revolution. It is therefore very important to preserve them for future generations. However, the remains are now in a poor state, but the general structure is still good. So it is still possible to save them, but quick action is needed !
Our goal is to revive this gem of industrial archeology as a memorial and sociocultural place where artists cand find inspiration and where tourists enjoy the peace and nature.
A « tavern-museum » space displays a series of tools and objects related to the history of the place and the work in the colliery and pay tribute to Vincent Van Gogh and Kirk Douglas,two exceptional visitors of the place. It's also possible to find some very typical gifts and souvenirs. And don't leave without tasting the famous « Pagnon borain » cake and the « Nuit Étoilée » (Starry Night) and « La Marcasse » beers.
We also plan to organize cultural and artistic outdoor events at Marcasse and host schools for workshops on themes such as mining and industrial memory, Vincent Van Gogh and nature.
Additional info about Van Gogh in the Borinage on http://Vangoghborinage.canalblog.com.
More info about « Marcasse et sa mémoire » on our Facebook page :
Facebook " Charbonnage de Marcasse"
Appointments for 2018
Sunday, April 1st, 2018 – Easter
Great egg chase on the green Marcasse domain and drone demonstration.
Sunday 24 June 2018 : : "Van Gogh Retromobiles" & "Marcasse Jazz Festival"
Sunday : « Van Gogh Retromobiles », concentration of veteran cars and military vehicules around the "automobile in cinema" theme. Animation, photo exhibition, live music, vintage stands, barbecua…
Sunday evening : « Music Festival », outdoor concerts at the foot of the slag mountain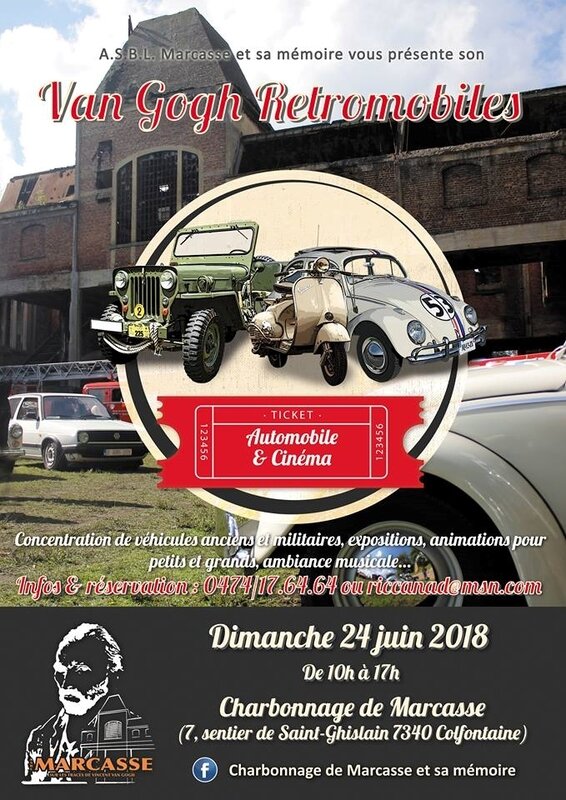 Saturday, 28 July 2018 : « Marcasse by Candlelight »
Illumination of the old mining buildings by 128 candles at the occasion of the 128th anniversary of Vincent Van Gogh's death (29/07/1890).
Outdoor projection of the film "Loving Vincent" (2017) thanks to the support of the Cultural Centre of Colfontaine.
trailer (English version) : https://www.youtube.com/watch?v=Gy0RVDM1sNA
Bar, fairy and musical athmosphere. .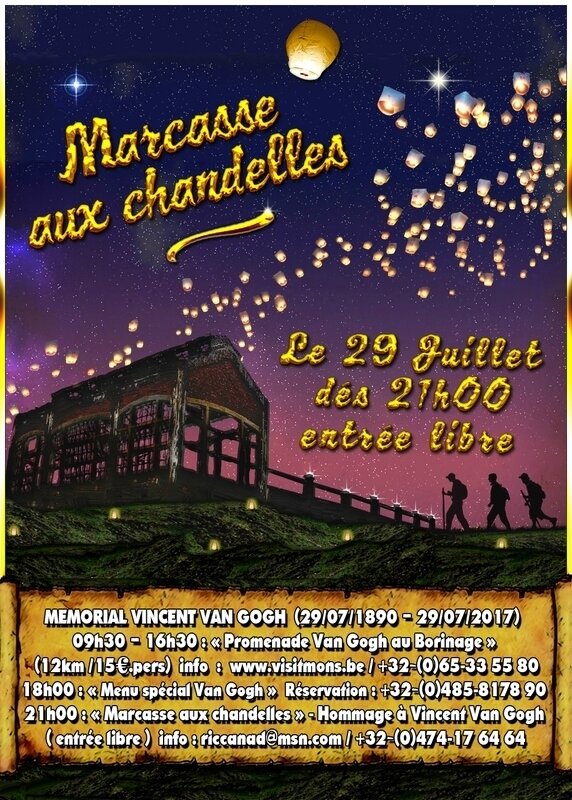 Saturday, 27 October 2018 : Halloween at Marcasse
Animation on the themes of Halloween :make-up, desguises …
Sunday, 2nd December 2018 : Saint-Nicolas at Marcasse.
Tour of Saint-Nicolas and his knight through the streets of Petit-Wasmes and welcome of the children to Marcasse. Distribution of sweets.
If you wish to participate in one or mor of these events, please do not hesitate to contact us for more detailed information.
President

Filip Depuydt

Tel : +32-(0)487-68 58 59

Vice-President

Nadine Gravis

E : riccanad@msn.com

Tel : +32-(0-474-17 64 64

Secretary

Claudio Paravano

tel : +32-(0)471-27 96 33

Treasurer

Laura Merlevede

Tel : +32-(0)493-18 95 08
Welcome to everyone !!!
Possibility to visit the site upon request via Filip Depuydt - +32-(0)487-68 58 59 – filip.depuydt@netc.eu
Discover the Masterplan for a new future of Marcasse : goo.gl/npj5DL

---
FR
asbl « Marcasse et sa mémoire »
Sentier de Saint-Ghislain 7
7340 Colfontaine
Présentation ?
Situé près de Mons (Belgique), à un jet de pierre de Valenciennes et Maubeuge, le charbonnage de Marcasse est l'un des plus anciens sites miniers du Borinage, première région charbonnière industrialisée en Europe. A travers le temps, l'entreprise minière a connu une histoire plutôt mouvementée. Voici ce que relateVincent Van Gogh, jadis évangéliste parmi les mineurs à Petit-Wasmes, dans une lettre à son frère Theo en avril 1879 :
…Il y a peu, j'ai fait une excursion très intéressante ; en fait, j'ai passé 6 heures dans une mine. Et dans une des mines les plus anciennes et les plus dangereuses des environs, appelée Marcasse. Cette mine a mauvaise réputation parce que beaucoup y meurent, soit en descendant soit en remontant, par asphyxie ou par explosion de gaz, ou bien à cause de l'eau dans le sol, ou de l'effondrement de vieilles galeries etc. C'est un lieu sinistre et, à première vue, tout aux alentours a quelque chose de lugubre et de funèbre…."
"…Descendre dans une mine est une chose désagréable, dans une sorte de panier ou de cage comme un seau dans un puits, mais un puits de 500-700 mètres de profondeur, de sorte que d'en bas, en levant les yeux, on distingue la lumière du jour à peu près de la taille d'une étoile dans le ciel..."
(Vincent Van Gogh à son frère Theo, avril 1879)
Grâce à la visite de Vincent Van Gogh, Marcasse accueille aujourd'hui des touristes venus des quatre coins du monde à la recherche des traces de Van Gogh. Le site fait désormais partie de la nouvelle Route Van Gogh Europe : www.vangogheurope.eu.
Les anciens bâtiments industriels de Marcasse, situés dans un cadre bucolique au pied d'une réserve naturelle, font partie des rares témoignages borains de la révolution industrielle. Il est donc très important de les préserver pour les futures générations. Cependant, les vestiges sont actuellement dans un état inquiétant, mais leur structure générale est encore bonne. Il est donc encore possible de les sauver, mais il est grand temps d'intervenir !
L'objectif de l'asbl « Marcasse et sa Mémoire » est de faire revivre cette perle d'archéologie industrielle comme un lieu de mémoire et socio-culturel où les artistes se ressourceront et où les touristes profiteront du calme et de la nature.
Un espace « taverne-musée » présente des objets relatant l'histoire du lieu et le travail des mineurs et rend hommage à Vincent Van Gogh et Kirk Douglas, deux visiteurs de choix du site. On y trouve également quelques souvenirs originaux. Pour terminer la visite en beauté, vous pouvez y déguster le fameux « Pagnon borain » et les bières « Nuit Étoilée » et « La Marcasse ».
Nous envisageons également d'organiser à Marcasse des événements culturels et artistiques en plein air, et d'accueillir des écoles pour des ateliers sur des thématiques comme la mémoire minière et industrielle, Vincent Van Gogh, Kirk Douglas et la nature.
Vous trouverez de plus amples informations sur Marcasse sur la page
Facebook " Charbonnage de Marcasse"
Les rendez-vous de 2018
Dimanche 1er avril 2018 - Pâques
Grande chasse aux œufs sur le domaine verdoyant de Marcasse et démonstration de modellisme.
Dimanche 24 juin 2018 : : "Van Gogh Rétromobiles" & "Marcasse Jazz Festival"
Dimanche : « Van Gogh Retromobiles », concentration de véhicules anciens et militaires sur le thème de l'automobile dans le cinéma. Animations, exposition de photos, ambiance musical, stands vintage, BBQ…
Dimanche soir : « Fête de la Musique », concerts en plein air au pied du terril
Samedi 28 juillet 2018 : « Marcasse aux Chandelles »
Illumination des anciens bâtiments miniers à la lueur de 128 bougies à l'occasion du 128ème anniversaire de la mort de Vincent Van Gogh (29/07/1890).
Projection en plein air du film "Loving Vincent (2017) grâce au Centre Culturel de Colfontaine.
bande annonce (version française) : https://www.youtube.com/watch?v=9kWQJzqOZzQ
Bar, ambiance féérique et musicale.
Samedi 27 octobre 2018 : Halloween à Marcasse
Animations sur les thèmes de Halloween et de l'étrange, maquillage, déguisements,
Dimanche 2 décembre 2018 : Saint-Nicolas à Marcasse.
Tour de Saint-Nicolas et de Père Fouettard dans les rues de Petit-Wasmes et accueil des enfants à Marcasse. Distribution de friandises.
Si vous souhaiteriez participer à l'un de ces événements, n'hésitez pas à reprendre contact avec nous pour obtenir de plus amples renseignements.
Président

Filip Depuydt

Tel : +32-(0)487-68 58 59

Vice-Présidente

Nadine Gravis

E : riccanad@msn.com

Tel : +32-(0-474-17 64 64

Secrétaire

Claudio Paravano

tel : +32-(0)471-27 96 33

Trésorière

Laura Merlevede

Tel : +32-(0)493-18 95 08
Bienvenue à tous !!!
Possibilité de visiter le site après rendez-vous auprès de Nadine Gravis au +32-(0)474-17 64 64.
Découvrez le Masterplan pour un nouvel avenir pour Marcasse : goo.gl/npj5DL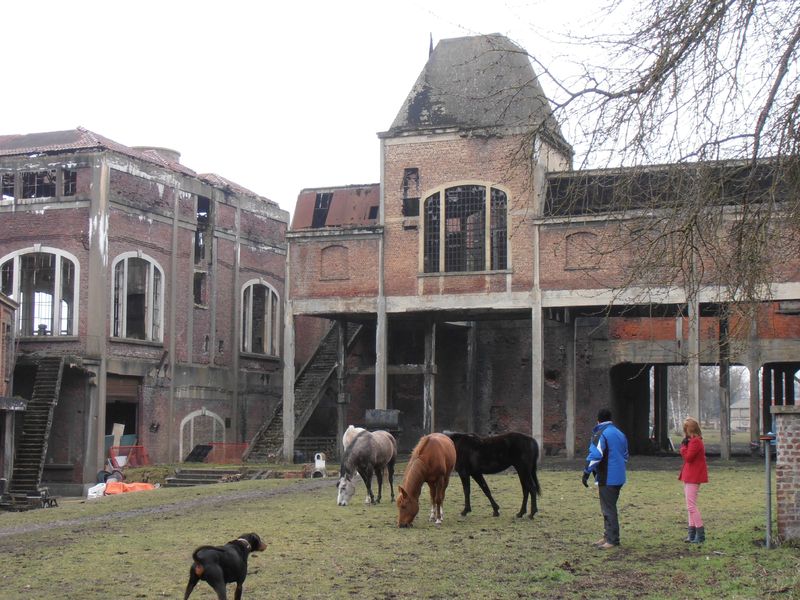 ---
NL
« Marcasse et sa mémoire » vzw
Sentier de Saint-Ghislain 7
7340 Colfontaine
Even voorstellen ?
Het domein van Marcasse is gelegen in de buurt van Mons (Bergen; België), langs de E19 autosnelweg van Brussel naar Parijs. Marcasse is één van de oudste kolenmijnen in de Borinage, destijds de eerste geïndustrialiseerde steenkoolregio in Europa.Door de jaren heen kende het mijnbouwbedrijf een nogal turbulente geschiedenis. Hier is wat Vincent Van Gogh - voormalig evangelist onder de mijnwerkers in Petit-Wasmes - in april 1879: vertelt in een brief aan zijn broer Theo
Niet lang geleden heb ik een zeer interressanten togt gemaakt, ben toen namelijk 6 uur lang in een mijn geweest. En wel in een van de oudste en gevaarlijkste mijnen van den omtrek, Marcasse genaamd. Die mijn staat in slechten naam van wege dat er velen in omkomen hetzij bij het afdalen of naar boven gaan of door stiklucht of gasontploffing of door het water in den grond of door het instorten van verouderde gangen enz. Het is een sombere plek en bij t'eerste gezigt heeft alles in den omtrek iets akeligs en doodsch.
…Het afdalen in een mijn is een akelig ding in zoo'n soort mand of kooi als een emmer in den put, maar dat in een put van 500-700 meters diep zoodat men op den grond naar booven ziende het daglicht ontwaart zoo ongeveer ter groote van een ster aan den hemel...
(Vincent Van Gogh, Wasmes, april 1879)
Dankzij dit bezoek van Vincent Van Gogh verwelkomt Marcasse vandaag bezoekers uit de vier windstreken, op zoek naar het spoor van de beroemde kunstenaar.. De site maakt overigens deel uit van de Europese Van Gogh Route: www.vangogheurope.eu
Met ons project beogen wij de herwaardering van Marcasse. De oude industriële gebouwen van Marcasse zijn gelegen in een schilderachtige omgeving aan de voet van een natuurgebied. Zij behoren tot de weinige Boreinse getuigenissen van de industriële revolutie. Het is daarom erg belangrijk om ze te bewaren voor de toekomstige generaties. De restanten bevinden zich in een bouwvallige staat, maar de algemene structuur is nog goed. Hett is dus nog niet te laat om ze te redden, maar er is geen tijd meer te verliezen !
Ons doel is om dit juweeltje van industriële archeologie te doen herleven als een plaats van herinnering en een socio-culturele plek waar kunstenaars zich kunnen herbronnen en waar toeristen genieten van de rust en de natuur.
Een « taverne-museum » ruimte presenteert voorwerpen die de geschiedenis van de plek en het werk in de kolenmijn illustreren, en hulde brengen aan Vincent Van Gogh en Kirk Douglas, twee opmerkelijke bezoekers van de site. Men vindt er ook een aantal originele souveniers. Om het bezoek in schoonheid te beëindigen, kan men er nog de « Pagnon borain » en de bieren « Nuit Étoilée » en « La Marcasse » proeven.
Daarnaast willen wij op het domein van Marcasse een aantal culturele en artistieke outdoor-evenementen organiseren, scholen ontvangen, workshops inrichten rond thema's als mijnontginning, industrieel erfgoed, Vincent Van Gogh en de natuur.
Bijkomende info over Van Gogh in de Borinagge op http://Vangoghborinage.canalblog.com.
Ontdek het Masterplan voor een nieuwe toekomst van Marcasse : goo.gl/npj5DL
Meer inlichtingen over « Marcasse et sa mémoire » op onze Facebook pagina
Facebook " Charbonnage de Marcasse"
De afspraken voor 2018
Zondag1 april 2018 - Pasen
Grote eierenjacht op het groene domein van Marcasse en demo van modellisme.
Zondag 24 juni 2018 : : "Van Gogh Retromobiles" & "Marcasse Jazz Festival"
Zondag : « Van Gogh Retromobiles », treffen voor veteran cars en militaire voertuigen rond het centrale thema van de automobiel in de film. Animatie, fototentoonstelling, muzikale omlijsting, vintage stands, BBQ…
Zaterdagavond : « Feest van de Muziek », openluchtconcerten aan de voet van de sintelberg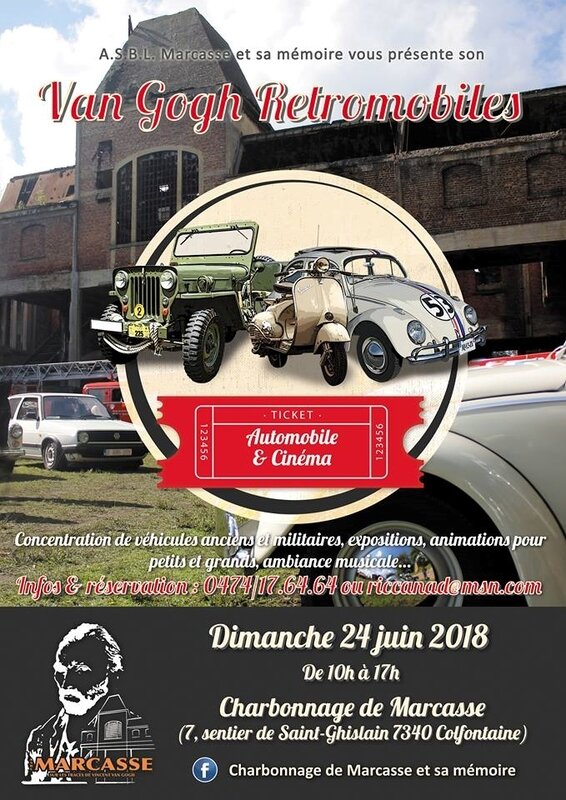 Zaterdag 28 juli 2018 : « Marcasse bij Kaarslicht »
Verlichting van de oude mijngebouwen met 128 karsjes ter gelegenheid van de 128e verjaardag van het overlijdan van Vincent Van Gogh (29/07/1890).
Outdoor projectie van de film "Loving Vincent" (2017), dankzij de steun van het Cultuurcentrum van Colfontaine.
trailer (English version) : https://www.youtube.com/watch?v=Gy0RVDM1sNA
Bar, feeërike en muzikale sfeer.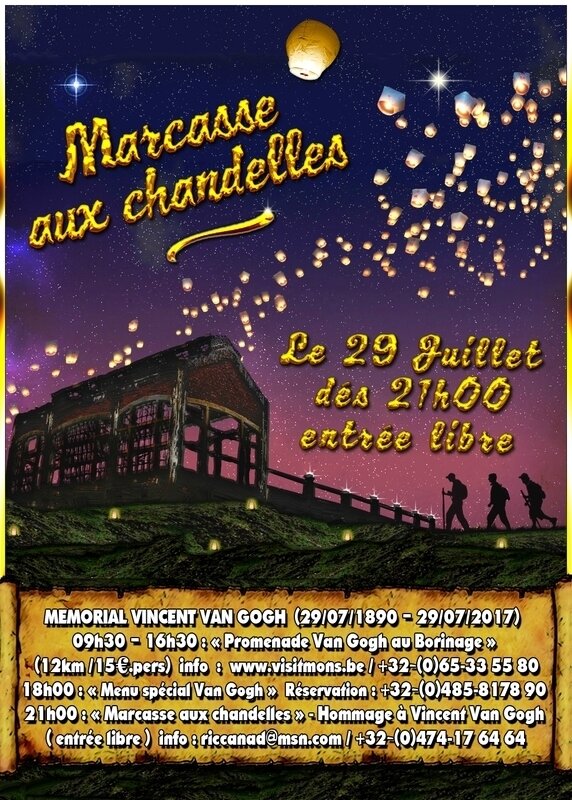 Zaterdag 27 oktober 2018 : Halloween in Marcasse
Animatie rond de themas van Halloween en het buitengwone, grimmage, vermommingen…
Zondag 2 december 2018 : Sinterklaas in Marcasse.
Tocht van Sinterklaas en Zwarte Piet in de straten van Petit-Wasmes en ontvangst van de kinderen in Marcasse. Verdeling van lekkernijen.
Indien u aan één of meerdere van deze evenementen wenst deel te nemen, neem dan gerust kontakt met ons op voor meer inlichtingen.
Voorzitter

Filip Depuydt

Tel : +32-(0)487-68 58 59

Vice-Voorzitster

Nadine Gravis

E : riccanad@msn.com

Tel : +32-(0-474-17 64 64

Secretaris

Claudio Paravano

tel : +32-(0)471-27 96 33

Schatbewaarder

Laura Merlevede

Tel : +32-(0)493-18 95 08
Hartelijk welkom !!!
Mogelijkheid om de site te bezoeken, na afspraak met Nadine Gravis via +32-(0)474-17 64 64.
"Marcasse et sa Mémoire" Team