Marcasse aux Chandelles - Marcasse b Candlelight
Hommage à Vincent Van Gogh - Tribute to Vincent Van Gogh
samedi 27 juillet 2019 - Saturday, July 27, 2019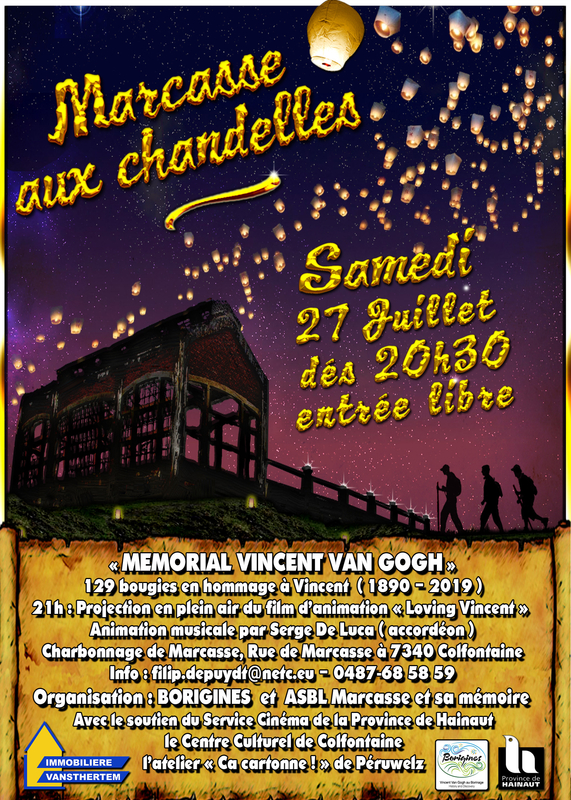 Programme
20:30 : Doors and bar open
Musical animation by Serge Di Luca and his accordeon.
Initiation to the folkloristic game "Crossage au Paillet" with Stephen Vincke
21:00 : Outdoor projection of "Loving Vincent" (2017)
and illumination of the old mine buildings by 129 candles for the 129th anniversary of Vincent's death
22:30 : Musical animation by Serge Di Luca and his accordeon.
Address :
Charbonnage de Marcasse
Rue de Marcasse
7340 Colfontaine
Belgium
Info : filip.depuydt@netc.eu - +32-(0)487-68 58 59
Free access / Entrée libre
Be welcome !!! / Bienvenue à tous !!

The lanterns / Les lanternes
Mrs. Caroline Demeulenaere (Centre Cerfontaine in Péruwelz) and her residents are making 129 autoportraits in Van Gogh style during their "Ca cartonne !" workshop. Each bag will contain a little candle and will be placed in the old Marcasse mine buildings to create a fairy atmosphere in honour of Vincent.
Mme. Caroline Demeulenaere (Centre Cerfontaine à Péruwelz) et ses résidents fabriquent 129 autoportraits à la Van Gogh durant leur atelier créatif « Ca cartonne ! » . Chaque sachet contiendra une bougie et tous seront placés dans les anciens bâtiments miniers pour créer une ambiance féérique en hommage à Vincent.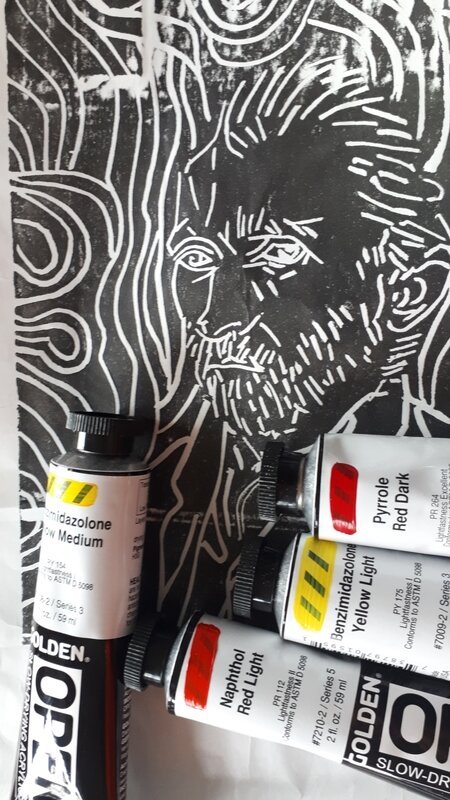 The Van Gogh lanterns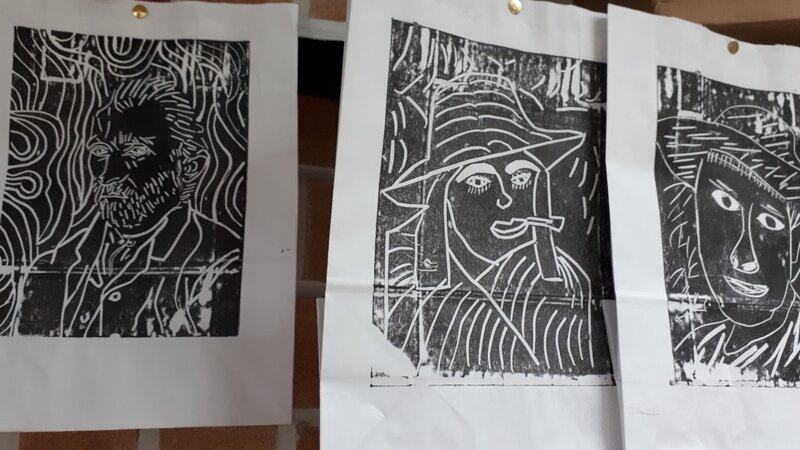 Une organisation de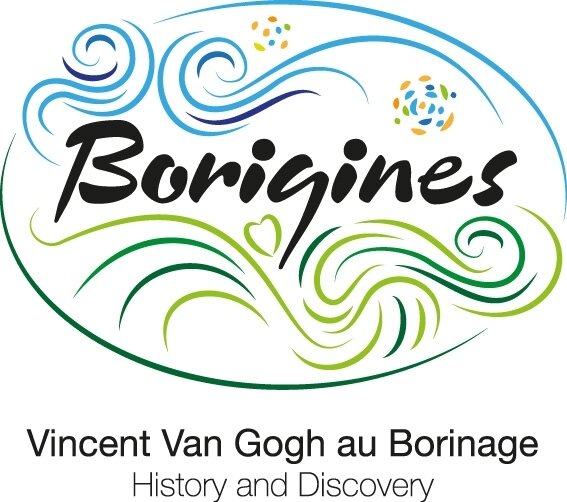 En partenariat avec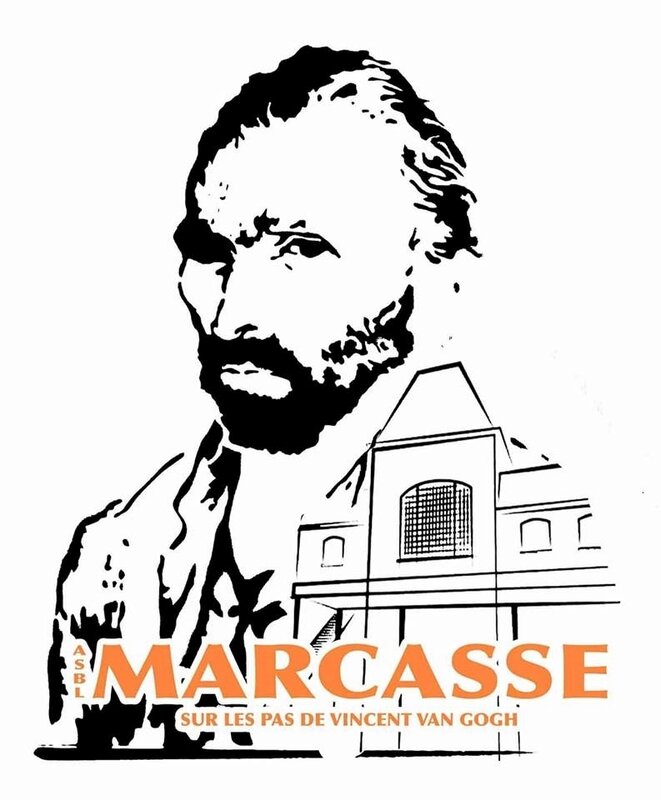 Avec le soutien du Service cinéma de la Province de Hainaut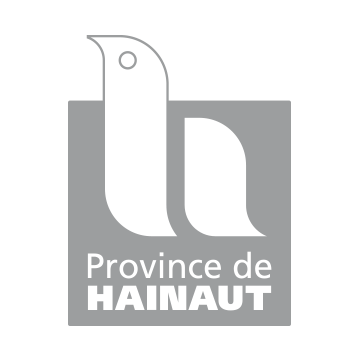 et l'aimable soutien financier de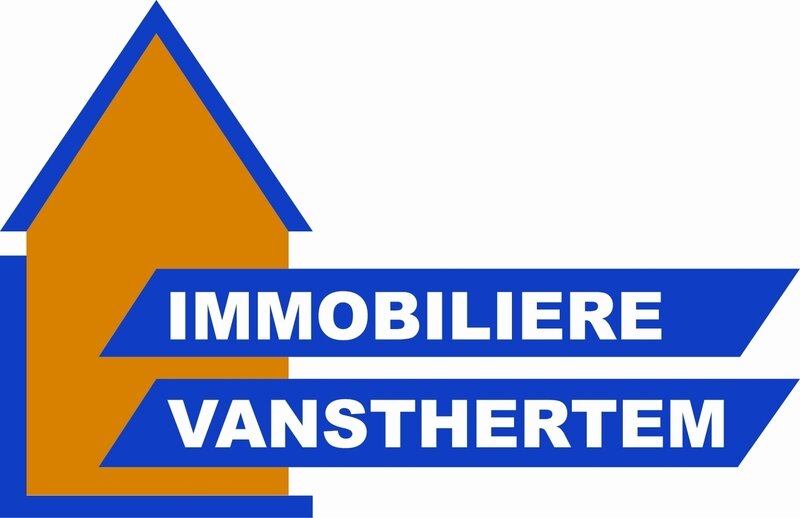 The Marcasse coal mine
Marcasse is the colliery where Vincent Van Gogh went donw 700m deep in the mine to discoverthe hard work conditions of the miners during the time he worked as an evangelist in the Borinage (Spring 1879).
In 1955 Vincente Minelli and Kirk Douglas came to Marcasse to record some scenes of the "Lust for Life" movie.
---
Promenade guidée - Guided walk
Sur les pas de Vincent Van Gogh - In Vincent Van Gogh's steps
in the Borinage
dimanche 28 juillet 2019 - Sunday, July 28, 2019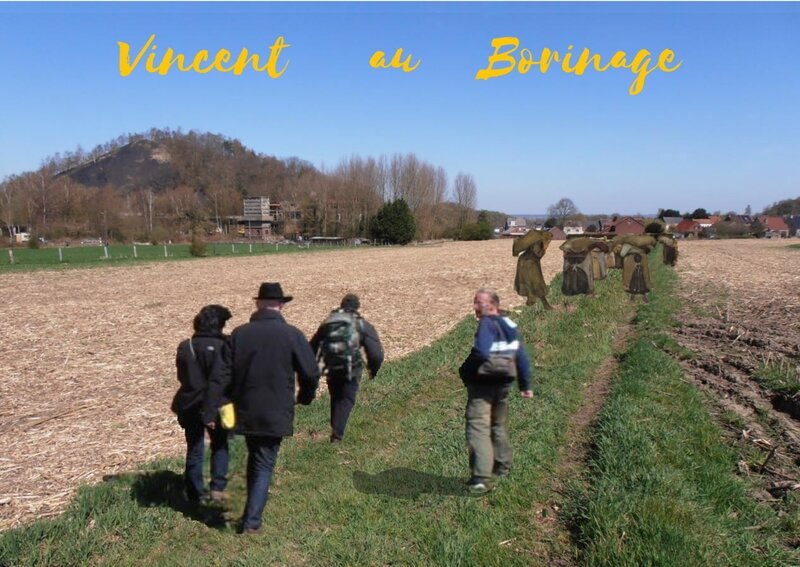 Voir les détails du programme sur autre page sur ce blog / See programme details on other page of this blog
Info : filip.depuydt@netc.eu - +32-(0)487-68 58 59
---
How to get to Marcasse ?
The Marcasse coal mine is located only 10 km west of the town of Mons
and 2 km from the E19 Brussels - Paris and E42 Lille - Liège - Cologne motorways (junction 25 : Saint-Ghislain)
Nearest railway stations : Mons (10 km) and Saint-Ghislain (4 km)
Nearest airports : Brussels - Brussels-South - Lille
---
Need accommodation ?
Special offer by Congres Hotel Van der Valk (Mons)
10% discount on the romm rates of the day.
Book your room directly at the hotel reservation. : +0032 65/39.02.07 ou info@hotelmons.eu.
Use "Van Gogh" as password !!!
(offer valid for the night of Saturday, 27 July only)
Avenue Mélina Mercouri 7 BE 7000 - Mons
Mail: info@hotelmons.eu www.hotelmons.eu