AUJOURD'HUI - TODAY
---
Quid anno 2010

Pâturages
Former railway station - Oud station - Ancienne Gare
The former railway station of Pâturages has found a new destination as a private house.
######

Het oude spoorwegstation van Pâturages heeft een nieuwe bestemming gevonden als private woning.
######

L'ancienne gare de Pâturages a trouvé une nouvelle vocation d'habitation privée.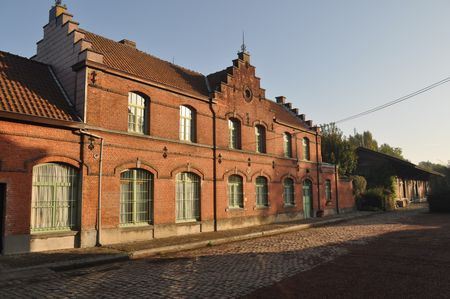 Wasmes
Town Hall - Gemeentehuis - Maison Communale

The originalsculpture of Ossip Zadkine found a place at the Town Hall of Wasmes (Colfontaine). It can be visited during the opening hours of the administration services.
######

Het originele beeldhouwwerk van Ossip zadkine kreeg een plaats in een nis van het gemeentehuis van Wasmes (Colfontaine). Het kan bezocht worden tijdens de openingsuren van de administratieve diensten.
######

La sculpture originale de Ossip Zadkine a trouvé une place dans u ne niche à la Maison Communale de Wasmes (Colfontaine). Elle peut être visitée durant les heures d'ouverture des services administratives.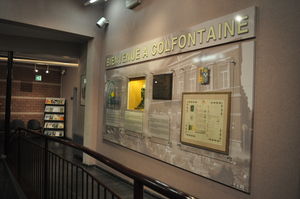 Place Saint-Pierre
A copy of Ossip Zadkine's work stands in the centre of the roundabout near Place Saint-Pierre. In the past,souvenir hunters or vandals run off with the head. Fortunately the local authorities seemed to have a couple of pieces in stock !
######

Een kopie van Ossip Zadkine's werk troont in het midden van de rotonde bij de Place Saint-Pierre. In het verleden ginngn souvenirjagers of vandalen reeds meermaals met het hoofd aan de haal. Gelukkig bleek de lokale overheid een kleine voorraad te hebben voorzien !
######

Une copie de l'oeuvre de Ossip Zadkine trône au centre du rond-point près de la Place Saint-Pierre. A plusieurs reprises, des chasseurs de souvenirs ou des vandales se sont emparés de la tête. Fort heureusement, les authorités locales avaient prévu une petite réserve !

Petit-Wasmes
Where time stood still...
######

Waar de tijd bleef stilstaan...
######

Où le temps s'est arrêté...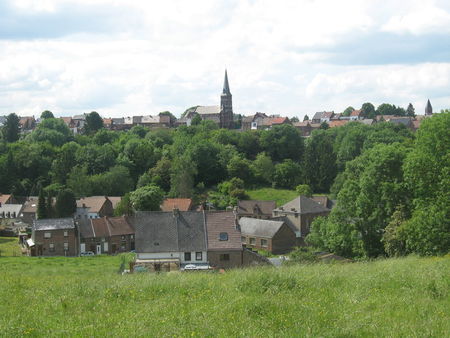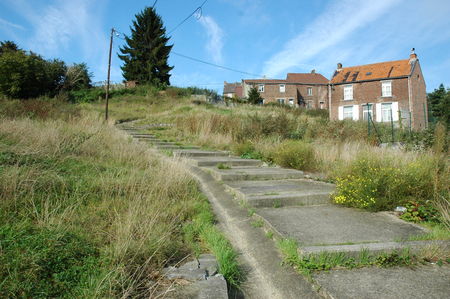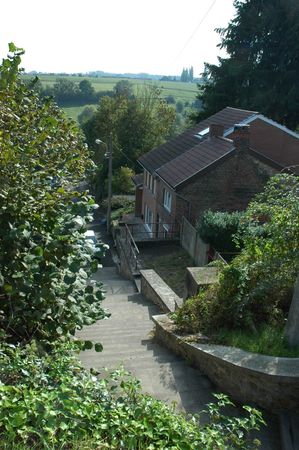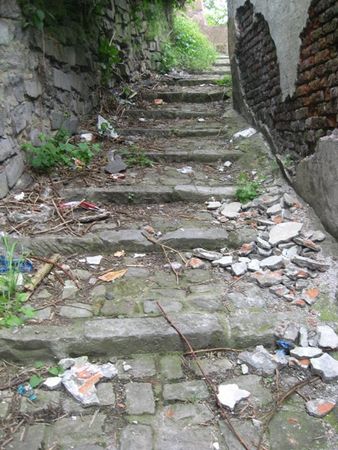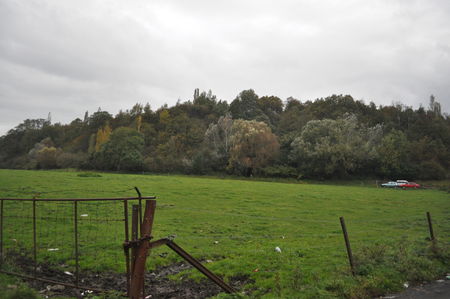 Marcasse
Sentier de Saint-Ghislain, Wasmes (Colfontaine)

Today Marcasse is teh property of Mr. and Mrs. Barberio who bought the place to make it a pedagogical farm. They have undertaken some renovation works at their own expense. A few years ago, as an initiative of the Cultural Centre of Colfontaine, childeren of the village accompanied by an artist realised a fresque on one of the waals, representing Vincent as a preacher and as a painter. In 2003, a commemorative plate was installed as a tribute to the victimes of a gas explosion in 1953. The slagmountain and its surrounding sre at present a "Natagora" natural reserve.
Heden is Marcasse de eigendom van Dhr. en Mevr. Barberio, die de terreinen hadden gekocht om er een kinderboerderij op te bouwen. Zij voeren er op eigen kosten de noodzakelijke herstellingswerken uit. Op initiatief van het Cultureel Centrum van Colfontaine, hebben kinderen onder begeleiding van een kunstschilder op één van de muren een fresco aangebracht waarop Vincent wordt afgebeeld als predikant en als schilder. In 2003 werd een gedenkplaat ingehuldigd ter ere van de slachtoffers van een mijngasontploffing in 1953. De terril en zijn omgeving zijn vandaag beschermd als "Natgora" natuurgebied.
Aujourd'hui, Marcasse est la propriété de Monsieur & Madame Barberio,qui avaient acheté les terrains pour y installer une ferme pédagogique. Ils y effectuent des travaux de rénovation à leur propres frais. Il y a quelques années, à l'initiative du Centre Culturel de Colfontaine, des enfants du village, encadré par un artiste-peintre, on réalisé sur l'un des murs une fresque représentant Vincent comme prêcheur et comme peintre. En 2003 fut inauguréé une plaque commémorative en hommage aux victimes d'un coup de grisou en 1953. Les terrils et les terrains environnents sont aujourd'hui colassés comm réserve naturelle "Natagora".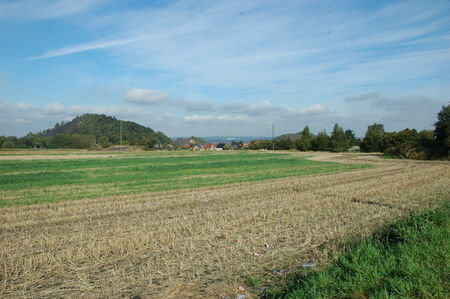 Marcasse, seen from the back of Maison Denis
Marcasse, gezien vanaf de achterzijde van het Maison Denis
Marcasse, vue de l'arrière de la Maison Denis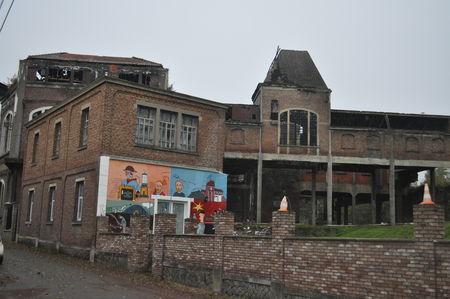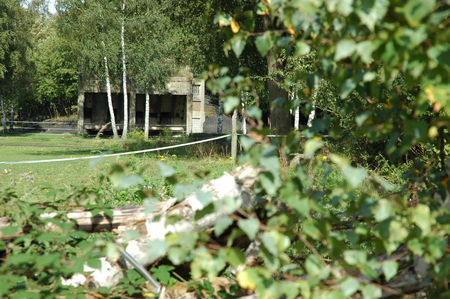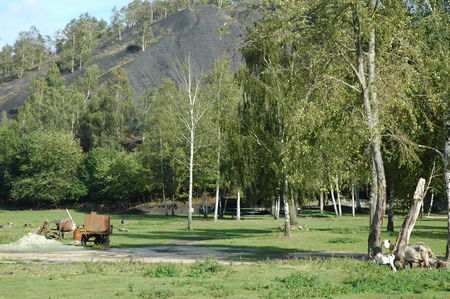 A tribute to the victims of a mine gas explosion in 1953
Herdenking aan de slachtoffers van een mijngasontploffing in 1953
En mémoire aux victimes du coup de grisou en1953
« Salon du Bébé »
Rue du Bois 257, Petit-Wasmes
This former dance salon Vincent used as a tempe, has been transformed into two private houses.
######

Dit oude danssalon, dat Vincent had ingericht als tempel, werd omgebouwd tot twee private woningen.
######

Cet ancien salon de danse, que Vincent utilisait comme temple, a été transformé en deux maison particulières.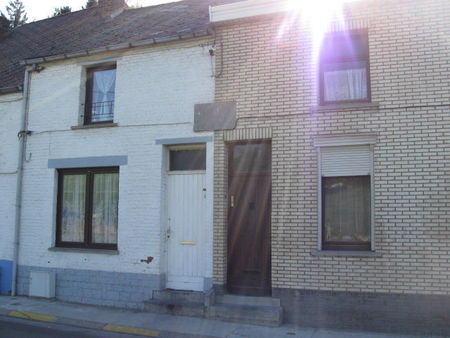 Plaque commémorative apposée en 1958

« Maison Denis »
Rue Wilson 221, Petit-Wasmes

Nowadays, this former bakery is a private property. Unfortunately, the owner is leaving it turn into ruin. But, there is hope it will soon be savee !
In 1879, Vincent found this hous was to luxurious for him. Would he prefer it like tis ?
######
Vandaag is deze vroegere bakkerij in private handen. Jammergenoeg laat de eigenaar het volledig vervallen. Maar, er is hoop op een spoedige redding !
In 1879 vond Vincent deze woning te luxueus voor hem. Zou hij dit verkiezeen ?

######
Aujourd'hui, cette ancienne boulangerie est une propriété privée. Malheureusement, le propriétaire la laisse tomber en ruine. Toutefois, on peut espérer une sauvegarde imminente !
En 1879, Vincent trouvait trop luxueuse pour lui. La préférerait-il ainsi ?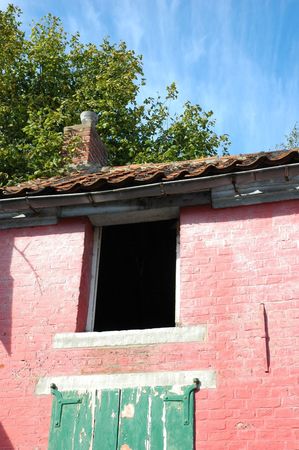 Plaque commémorative apposée en 1925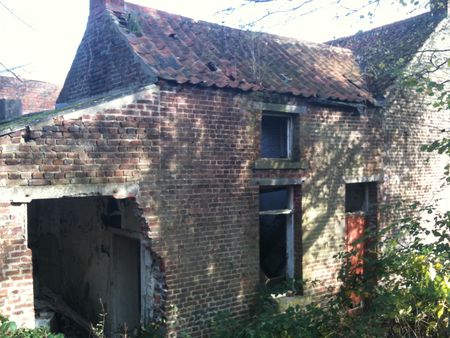 Will "Maison Denis" soon be saved ? "Mons 2015" - Cultural Capital of Europe - offers hopeful perspectives. Fingers crossed !!!
######
Wordt het "Maison Denis" binnenkort gered ? "Mons 2015" - Culturele Hoofdstad van Europa - opent in ieder geval hoopvolle perspectieven. Vingers gekruist !!!
######
La "Maison Denis" bientôt sauvée ? "Mons 2015" - Capitale Européenne de la Culture - ouvre des perspectives encourageantes. Croisons les doigts !!!
Frameries
Cour de l'Agrappe

A discrete memorial of a tragic past
######

Een discrete herdenking aan een tragisch verleden.
######

Un témoignage discret à un passé tragique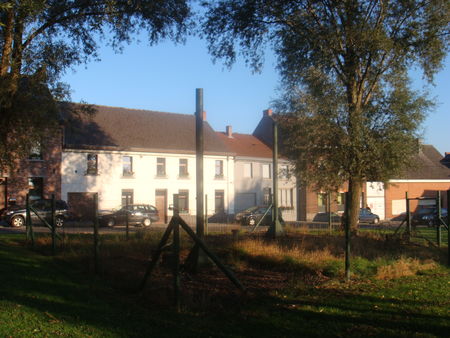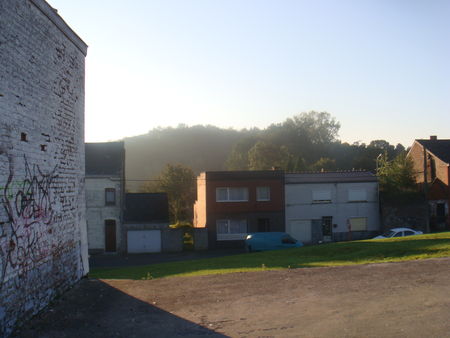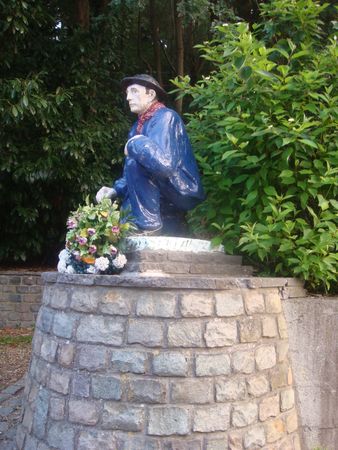 Cuesmes
Maison Van Gogh, Rue du Pavillon 3, 7011 Cuesmes

The "Van Gogh House" : a museum on Vincent, where one can contemplate the original work "Les Bêcherus".
Het "Van Gogh Huis" : een museum ter ere van Vincent, waar men het orininele werk "Les Bêchers" kan aanschouwen.
La "Maison Van Gogh" : un musée à l'honneur de Vincent, dans lequel on peut admirer l'oeuvre orinale "Les Bêchers".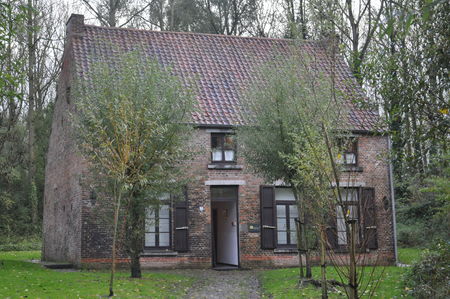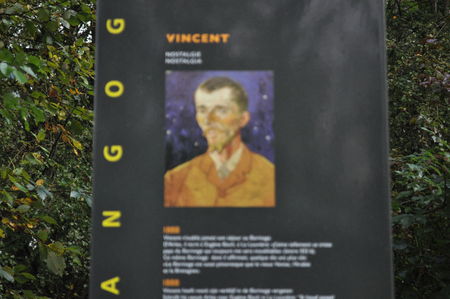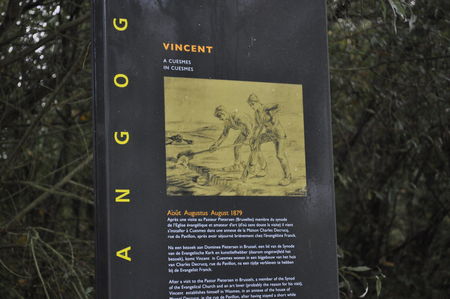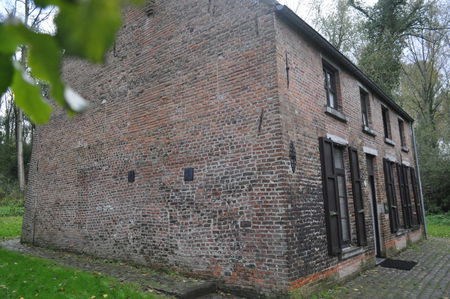 ---
SOURCES D'IMAGES - GRAPHICS
---
Images
Sources d'illustrations de ce document :
- « Autour des Fosses », Claire Bortolin, Ed. Grand-Hornu Images
- « Les Enfants de la Mine », Fabian Grégoire, Ed. Gallimard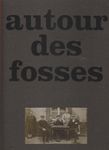 Projections
L'exposition à Frameries en novembre 2010 était complétée par les projections suivantes :
- Reportage sur le séjour de Vincent Van Gogh au Borinage, réalisé par Marcel Gosselin (originaire de Petit-Wasmes), pour les émissions protestantes à la télévision française.
- Emission de la RTBF présentée par Robert Hostetter, ancien pasteur de Petit-Wasmes.
- Enregistrement amateur (8 mm.) du tournage de quelques scènes du film de Vicente
Minelli, "La vie passionnée de Vincent Van Gogh » , devant le Grand-Hornu (1956).
- Clip Youtube : « Vincent » de Don McLean.
- Clip Youtube : « Les Tournesols » de Jean Ferrat.
- Interview de Victorine Chalet par Alain Normand (Suisse), synchronisé par Nicola Pomilio avec le montage « - Témoignage du Borinage 2010 », réalisé par Mme. Dominique Mailleux et Filip Depuydt.

---
PRESSE - PRESS
---
Article "Algemeen Dagblad" (Pays-Pas)
Article "La Province"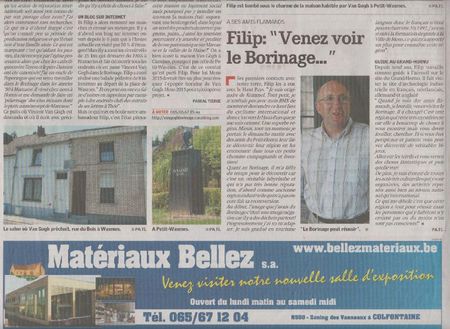 ---
L'AVENIR ? - THE FUTURE ?
---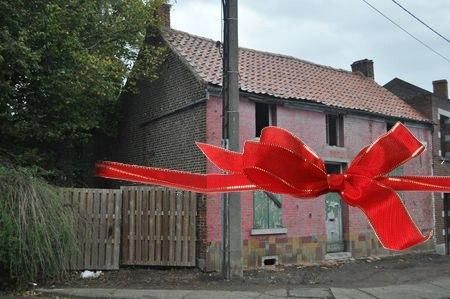 Photo : Dominique Mailleux - Montage : Monique Vandenberg (Rotterdam)
See you soon at the Borinage ! - Tot binnenkort in de Borinage ! - A bientôt au Borinage !
Thank you for your interest ! - Merci de votre intérêt ! - Dank voor uw belangstelling !

Filip Depuydt
Frameries
Belgium