Vincent meets Vincent in Mons !
Tuesday, 30 July 2019
It was on his 50th birthday that Walter Michael DeForest (New-York) paid a visit to the Van Gogh bust created by Britisch artist Anthony D. Padgett.
Anthony created the sculpture as part of his "One Year With Vincent" project (2017). It is part of a series of 7 similar busts Anthony offered to places Vincent Van Gogh used to live and work.
The copy he offered to the Mons-Borinage former coal mining region is made of a coal effect resin. Filip Depuydt placed it in the entrance hall of the Congres Hotel Van der Valk, which is located right behind the Mons railway station where Vincent arrived (December 1878) and left (October 1180) the Borinage.
It can be seen there every day.
Walter Michael De"Forest's visit to Mons was part of his 79-days "Van Gogh - Find yourself !" journey through Europe.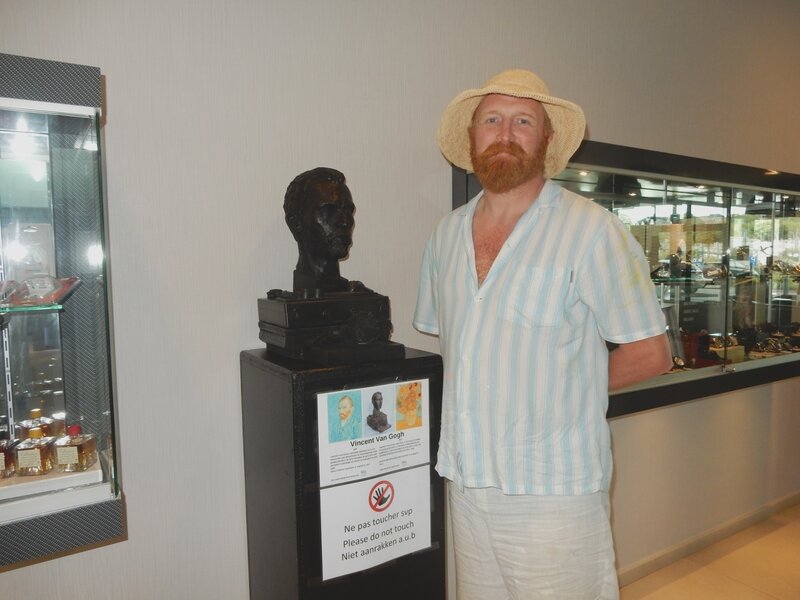 Oh.. sorry ! These are Vincent and Onyx... Two great friends !!
Anthony D. Padgett – One Year with Vincent : http://anthonydpadgett.tripod.com/vincentindex.html
Walter Michael D. Forest – Van Gogh Find Yourself ! : http://www.waltermichaeldeforest.com/