Sunday, 20 October 2019
Tribute to Vincent Van Gogh in Petit-Wasmes
It was in 1879 that Vincent Van Gogh was an Evangelist for the protestant community of Petit-Wasmes. Unfortunately, his 6 months' trial contract was not extended and Vincent had to leave Petit-Wasmes. Nevertheless he decided to stay for another year in the Borinage, in Cuesmes, where he finally decided to become an artist.
"In short, it was in the Borinage that I began to work from nature for the first time. But I destroyed all that long ago, of course".
Letter to Eugène Boch (Arles, 2 Octobre 1888)
140 years after, tribute will be paid to Vincent on Sunday, 20 October 2019 with a jogging or walk in Petit-Wasmes and a concert in the Evangelic Church.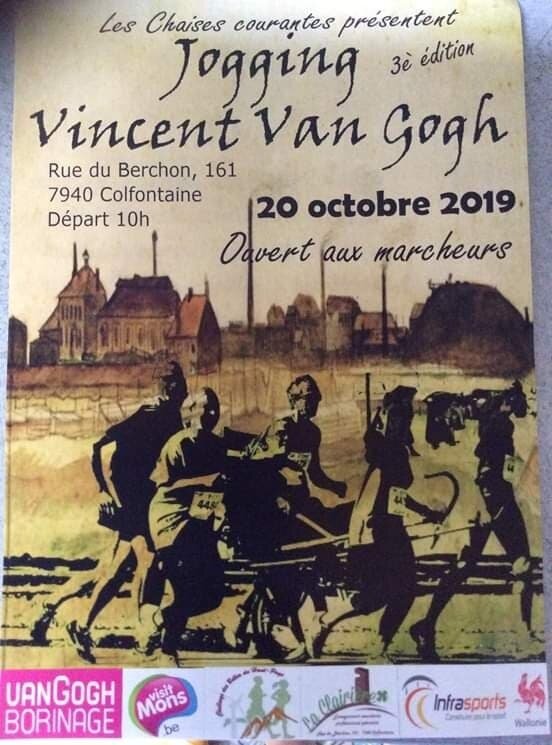 Dimanche 20 octobre 2019
Hommage à Vincent Van Gogh à Petit-Wasmes
C'est en 1879 que Vincent Van Gogh était évangéliste au sein de la communauté protestante de Petit-Wasmes. Malheureusement, après 6 mois d'essai, son contrat n'a pas été prolongé et Vincent a dû quitter Petit-Wasmes. Mais il est resté encore un an dans le Borinage, à Cuesmes, où il a finalement décidé de devenir artiste.
« C'est en somme dans le Borinage que j'ai pour la première fois commencé à travailler sur nature. Mais naturellement tout cela je l'ai depuis longtemps détruit ».
Lettre à Eugène Boch (Arles, 2 Octobre 1888)
140 ans après, le dimanche 20 octobre 2019, un hommage sera rendu à Vincent Van Gogh avec un jogging ou une marche dans les sentiers de Petit-Wasmes, et un concert au Temple Evangélique.